Every year at Comic Con, Marvel Studios brings in its exciting new addition to its vastly popular Marvel Cinematic Universe. Each one of their movies promises an action-packed adventure,filled with loads of fun and sentiment. And they have kept up to their hype this year with trailer and footage reveals of highly anticipated projects. What made Marvel's exhibit at Comic Con 2016 a memorable one,let's find out:
1.Yet Another Doctor Strange Trailer(And a better one too)

If all that buzz created by the bearded Benedict Cumberbatch,on his knees and pleading "Teach Me!" was great, wait till you get a load of the new trailer. The movie revolves around the story of Dr.Stephen Strange,a renowned surgeon who somehow finds himself in a reality-bending adventure,and must harness the mystic powers to save the day (What else did you expect,It's Marvel,for God's sake). Rachel Mc Adams plays as Christine Palmer, one of the three original Night Nurses(Ahoy,comic book nerd), and the cast also has Chiwetel Ejiofor(Try pronouncing it!) casted as Baron Mordo. While the avid readers of Marvel Comic books can't wait to see their magical savior in live-action, casual filmgoers who don't follow the comics are looking forward to see their beloved "Sherlock Holmes", and the popular Mads Mikkelsen,who seems to be the antagonist here, on the mega screen .Marvel seems to go for the bling pretty hard.
2.Thor:Ragnarok-Logo Reveal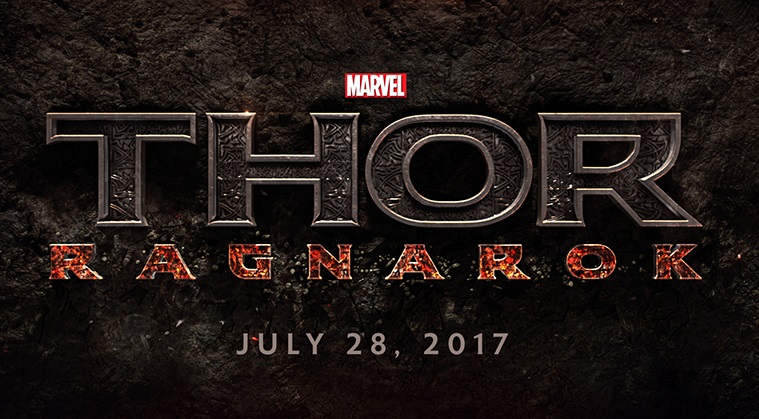 For those who missed the God Of Thunder,and the "adorable" green giant,Hulk, after their absence in Captian America:Civil War(The Capt.America movie ,but with too little Capt.America screen time,that it should have been Avengers:Civil War), Marvel revealed the movie logo for the interstellar,epic, bad-guy-versus-good-guy movie that will soon hit the screens.The cast seems to be star-studded with big names like Chris Hemsworth, Mark Ruffalo, Tom Hiddleston, Idris Elba, Anthony Hopkins, Cate Blanchett, Jeff Goldblum, Tessa Thompson and Karl Urban. Be sure to check out the Hulk Gladiator armor too.
3.Black Panther Returns(or begins,actually)

One of the most appreciated,and loved-by-all character,was Chadwick Boseman's portrayal of Black Panther of fictional Wakanda.The role was lauded for its intense ideologies and flamboyant combat techniques. Marvel announced that the filming of the vibranium-wearing superhero's standalone will begin in January. The cast is also said to have Lupita Nyong'o, Danai Gurira and Michael B. Jordan, along with several others. This news might move the fans a bit, if not they "will be moved".
4.Spiderman-Homecoming announces its cast

If you live by the quote "With great power,comes great responsibility", and loved the Tom Holland version of probably the youngest movie Spider-man(and Aunt Hottie..ahem..Aunt May,too) in Civil War, then hurray yourself. The brand-new Spiderman movie has announced its cast and concept art, which points to Vulture,being the movie's main antagonist.Joining "Peter Parker" in the bandwagon, Michael Keaton will star in Homecoming as Vulture, as well as Zendaya, Donald Glover, Jacob Batalon, Laura Harrier, Tony Revolori, Tyne Daly, Bokeem Woodbine, Marisa Tomei, and Robert Downey Jr(Yes,more of Team Iron Man,yay). Let's hope he gets a better backstory before the next "Avengers" happen.
5.Guardians of the Galaxy:2-Star-Lord is back,this time with his dad.

The Guardians of the Galaxy Vol. 2 cast includes the return of Chris Pratt as Peter Quill aka Star-Lord, Zoe Saldana as Gamora, Dave Bautista as Drax, Vin Diesel as the voice of Groot, Bradley Cooper as the voice of Rocket, Michael Rooker as Yondu, Karen Gillan as Nebula, and Sean Gunn as Kraglin. New cast members also include Elizabeth Debicki, Chris Sullivan, Sylvester Stallone, and Kurt Russell as Peter Quill's father, Ego the Living Planet. The cast reveal was also accompanies by a sneak peek,which has not yet been disclosed to the Internet. The Ravagers also look more savage than ever,while the progression of the story,seems to be a bit devoid of the usual marvel superhero films.I guess its time for some more retro music,from that even-retro Walkman,Star-Lord.
6.Captain Marvel??

Perhaps one of the most unforeseen announcements of Comic-Con, there is a Captain Marvel movie coming up, featuring Oscar-winning Brie Larson as what could be Marvel's first female superhero-lead movie (Take that, FemiNazis who complained Marvel so far). The news was revealed along with the film's logo.It has not yet been decided on who the director would be. Its slated to release on March 2019, giving more room for Spiderman:Homecoming and Ant-Man and The Wasp for their scheduled 2018 release.
That's all for the most important happenings at Comic Con for MCU ,this year. Seems that Marvel Studios has a lot of tricks up their sleeve,and is planning on breaking the box-office records big time! All we can hope,is for some quality popcorn time(P.S If you are a fan of the X-men movie-verse,better luck next year…)
Comments
comments